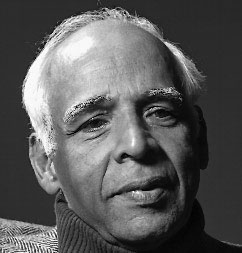 "This is the central principle of meditation: we become what we meditate on."
– Eknath Easwaran
The Timeless Wisdom of Eknath Easwaran
Video Clip: Slowing Down Our Thoughts (3:29 minutes) "As long as your thoughts are going faster and faster you cannot control them, they will control you," Easwaran says. . . . more
You Are a Force for Peace "Keep reminding yourself that goodness is the strongest force in the world." . . . more
Discourse on Good Will: Easwaran Reads the Sutta Nipata Reading the news headlines can leave us feeling sad, angry, or helpless. . . . more
Easwaran on Thomas a Kempis' The Imitation of Christ: Talk 42 This is the 42nd in a long series of talks Eknath Easwaran gave on The Imitation of Christ by Thomas a Kempis. . . . more
The Whole World Is Your Own These words are revered as the last message of Sri Sarada Devi (1853-1920), "Holy Mother," wife of Sri Ramakrishna and helpmate in his work: I tell you one thing – If you want peace of mind, do not find fault with others. . . . more
Thought for the Day
November 30
O Lord, how entirely needful is thy grace for me, to begin any good work, to go on with it, and to accomplish it. For without that grace I can do nothing; but in thee I can do all things when thy grace doth strengthen me.
– Thomas a Kempis
One way of representing God is with a holy hammer in his pocket. When he finds we are being irresponsible, when he sees us going in the wrong direction, he takes out this little hammer and gives us a gentle rap on the knuckles. If we are really good students we shall be able to learn with just this one small rap. There are a few rare creatures who have this capacity to learn. Most of us, however, would not be able to change our ways if the only guidance the Lord gave us was, "Won't you please consider this very carefully and act upon it if you approve?" The vast majority of us go on making the same mistake over and over again. It is only when the raps become painful that we bother to ask where they come from and how we can put an end to them. We have to be shocked into awareness that we are injuring ourselves and others. Then, through all the little decisions we make day in and day out, we have to work to transform our sorrow-producing habits into acts that lead to increasing joy.
The BMCM is re-designing this website and we'd love your input. Please fill out this 5-minute survey. Thank you!
Our hearts are full of sadness following the recent tragedies in Paris, France, and in Beirut, Lebanon. We want to share with you Easwaran's response to such acts of violence.
"I keep in close touch with what happens in the world. And there are times when I feel deeply grieved by the suffering I read about, and wonder why life has to be this way. But I never despair. At those times I go deep, deep into meditation until I reach the very source of love and wisdom that exists in each of us.

"So what I would tell all of you is this: meditate every day, throw yourself into some form of selfless work, and use your sense of suffering to relieve the suffering of others. It is a wonderful gift to be able to give."

– Eknath Easwaran, Spring 2015 Journal