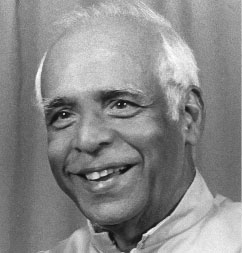 "The capacity to be patient, to bear with others through thick and thin, is within the reach of anyone."
– Eknath Easwaran
The Timeless Wisdom of Eknath Easwaran
YA Blog Post: A Passage for October "For spiritual seekers of all persuasions, Gandhi showed us that the spiritual life need not mean retiring to a monastery or cave. . . . more
Your feedback on our website, please! We're re-designing our website in the BMCM (www.e . . . more
Anniversary Offer on With My Love and Blessings Readers and students of Easwaran often say that they wish they had been able to meet him while he was physically with us. . . . more
The Illusion of Separateness (from Essence of the Bhagavad Gita) This excerpt is from a chapter with an intriguing title: "The Sticky Illusion of Separateness." . . . more
YA Blog Post: Staying Slowed Down in the Work Place "Remember that there is no such thing as an unimportant thought or action. . . . more
Thought for the Day
October 10
The knower and the known are one. Simple people imagine that they should see God, as if he stood there and they here. This is not so. God and I, we are one in knowledge.
– Meister Eckhart
In order to say that there is no one in our deeper consciousness, we have to go there, knock on the door, and find that no one is at home. Until he has made that journey, knocked on the door, and heard a voice saying "There is no one here," no one should call himself an atheist. "Agnostic" is more correct.
Of those who tell me they are atheists, I ask, "Don't you believe in yourself?"
Their answer is, "Of course."
"Then," I say, "you believe in God."
When we use terms like "God" or "Lord" it is not referring to someone "out there." We are invoking someone who is inside us all the time, who is nearer to us than our body, dearer to us than our life.
The BMCM is re-designing this website and we'd love your input. Please fill out this 5-minute survey external link. Thank you!