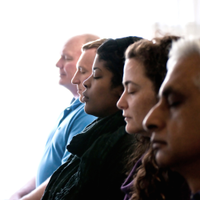 Welcome to our retreat pages!
Meditation on a passage is a powerful and effective method for training your mind. It is universal and inclusive, practiced by people of all ages and backgrounds. It appeals to people of all religious traditions, and to those who are not religious. This unique spiritual practice can help you to train attention, deepen relationships, and find purpose, peace, and joy.
We have been sharing passage meditation for over 50 years. We have a wide variety of programs to provide all you need to take the next step on your spiritual path – whether you're trying meditation for the first time, or deepening your long-term practice.
Along with our retreats, we offer community and free resources to give you ongoing support and inspiration.
Find the right retreat for you by looking at our Retreat Guide. We hope to see you soon, and feel free to contact us at info@easwaran.org or 800 475 2369 if you have any questions.